UC Community Economies Partnerships
Elements of the University are already showing up in community partnerships focused on community wealth-building that prioritize relationships, reciprocity, and justice.  Below are some examples from around the UC system
Sustainable Living and Learning Community (UC Davis)
The Sustainable Living and Learning Community at UC Davis is a 40 acre-district of immersive, student-driven projects dedicated to sustainable food production, water conservation, cooperative housing, and integrated waste and energy systems. Beyond the historic 20-acre Student Farm, community gardens, D-lab workshop, Project Compost, and existing Domes and Tri C housing cooperatives, the district will serve as an immersive incubator for social and environmental projects, student mentorship, and experiential learning. The Feminist Research Institute also recently found a home in the district.
 
The SLLC's vision for new housing cooperatives served by a "co-op hub" will make UC Davis a national leader in using the co-op model for affordable, resident-managed, student housing. The planned food processing facilities will allow an expansion and diversification of the Student Farm's Community-Support Agriculture operation and boost the percentage of campus dining food grown on campus. Proposed investments in infrastructure, learning spaces, and environmental design will support the ongoing success of the SLLC's many programs and allow new projects to take root.
 
This innovative plan for the use of university land did not fall from the sky. It builds on decades of student activism and projects passed on from one generation of students to the next. Allied student groups, staff, and faculty continue to network, advocate, and fundraise on behalf of the district. Recent successes include the funding of a fellowship for student projects directly tied to the SLLC. Visit the SLLC's website to read about the vision and find out how to get involved.  Creating spaces on campus that integrate alternative approaches to the management of land, water, waste, energy, and housing can demonstrate what living within a community economy looks and feels like.  Students and community members who experience the SLLC will ask different questions about and recognize different possibilities for the future.
Aggie Square (UC Davis)
Along the edge of UC Davis' Sacramento Campus, the university is partnering with the City of Sacramento on a new innovation center called Aggie Square. The project combines offices, teaching spaces, research labs, and student housing around the Aggie Square central plaza that planners hope will become an inviting hub of activity for the surrounding neighborhood. One anchor tenant for the project will be UC Davis' Office of Continuing and Professional Education and workforce training for the city as a whole will be a focus.  Focus areas are also emerging in regenerative medicine and 'food and health'. The project team is currently gathering input on how this space can benefit adjacent neighborhoods and strengthen the commercial corridor along Stockton Boulevard.   Visit the University's website for the project and read the Center for Regional Change's report on how Aggie Square can become a national example of equitable community-university partnerships that result in development without displacement. 
Eco Vista (UC Santa Barbara)
The long-term goal of the student-driven project called Eco Vista at UCSB is to establish an ongoing, multigenerational, diverse student-community partnership for an equitable and just transition in the 20,000-member community of Isla Vista adjacent to the university.
For the next eight to ten years, we plan to encourage and inspire the foundation of an eco-village in Isla Vista through renewable energy, a flourishing and regenerative agro-ecology of public urban gardens, cooperative, affordable eco-housing, a circular eco-economy based on solidarity and meeting the real needs of the inhabitants, a vibrant web of visionary cultural creativity, radical self-governance, and community priorities determined by all who reside here. Our hope is that Eco Vista can become a model for other student-inspired sustainable communities! 
Aggie Compass (UC Davis)
A 2018 survey at UC Davis revealed that 44% of students experience food insecurity while 18% experience lack affordable housing. These numbers show that for many the economics of going to school are untenable, leading to the creation of  Aggie Compass, whose mission is to provide students with resources related to basic needs such as food, housing, and emergency financial assistance. Students who visit Aggie Compass in the Memorial Union can find food, receive support, feel a sense of community, and participate in a different type of economy, one built on care and the provision of basic needs. The work of Aggie Compass is also spurring dialogue about the long-term solutions to food and housing insecurity, something the staff pursues by networking with organizations, both on and off-campus. 
CooperAcción Curriculum (UC Irvine)
Together with UCI Sustainability Resource Center, UCI Community Resilience Projects is collaborating with members of Cooperacion Santa Ana and the CRECE Cooperativa on a new, community-driven curriculum project. The project aims to prepare residents of Santa Ana, along with UCI students, faculty, and staff, to engage in on-going community-driven efforts to build healthy communities based on community ownership, cooperation, and land stewardship for food sovereignty. 
Cooperación Santa Ana is a cooperative business development program that offers training, coaching and incubation to low-income residents and families of Santa Ana interested in growing additional income streams and developing their businesses. Following the principles of cooperativism, Cooperacion Santa Ana advances democratic governance structures both within the businesses it incubates as well as across them. As a high-touch worker cooperative developer, the goal of Cooperación Santa Ana is to shift power and resources and break systems of oppression.
 
Food and Economic Development in Davis (UC Davis)
A joint effort of the City of Davis' elected officials, community leaders, and UC Davis Professor Catherine Brinkley, the Food and Economic Development in Davis report charts a course for Davis to break new ground in using sustainable food and agricultural practices as a driver of economic development. The report lists a number of ways the University can support local food economies, including providing space to incubate FoodTech, AgTech, and creative culinary enterprises, boosting institutional purchasing from local farmers and food businesses, using the City as a testing ground for innovative solutions to food access and food waste, and educating students on the healthy and sustainable food options available within the City.  As the nation's leading agricultural university, UC Davis has over 400 scholars focused on food systems and over 7,000 students enrolled in food-related degree programs.  Stronger linkages between these people and programs and city officials, local businesses, and community leaders will allow Davis to demonstrate the economic advantages that come from supporting local food systems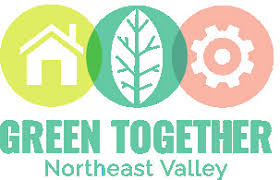 Green Together: Northeast Valley - Displacement Avoidance (UCLA)
The Center for Neighborhood Knowledge (CNK)  at UCLA is excited to be part of a historic collaborative effort that directs $23 million in state funding, matched by an additional $47 million in leveraged funds, into a wide range of alternative energy, active transportation and greening projects in the Pacoima-Sun Valley area of northeast Los Angeles. The CNK will be assisting the Green Together Coalition with its Displacement Avoidance Plan, designed to achieve important environmental, health, workforce development and climate resilience benefits. More details about the project can he found here.