What are community economies?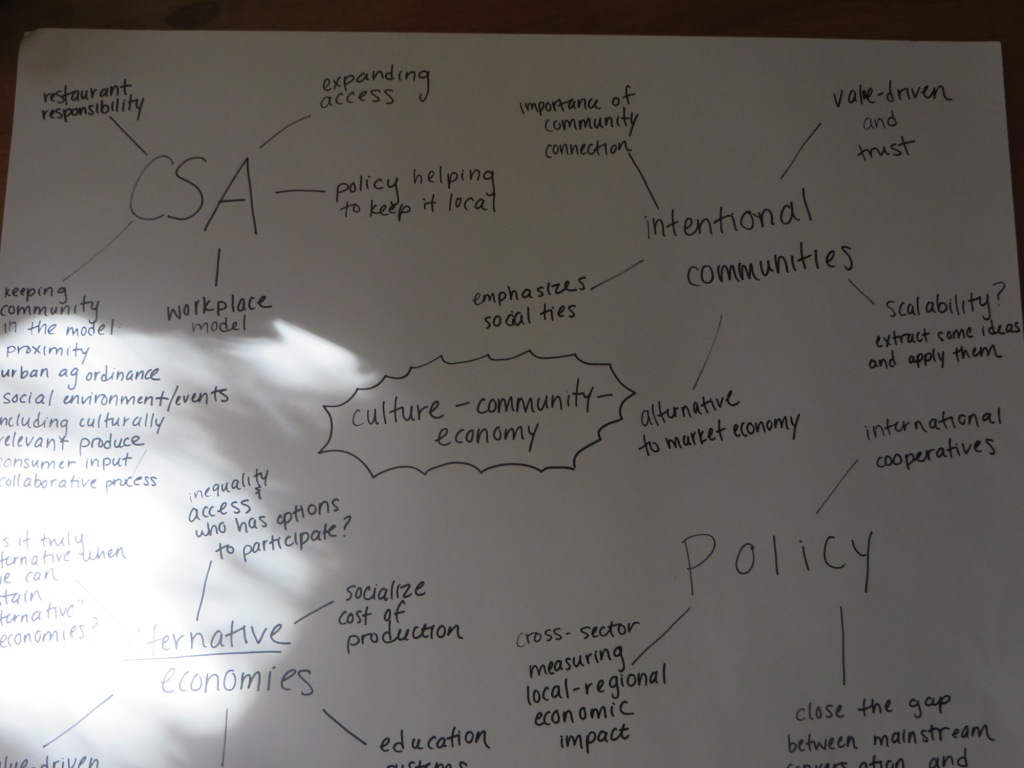 The work we are interested in goes by many names: alternative economies, solidarity economies, new economies. Our group is using the name "community economies," purposely plural, to recognize a link to the writings J.K. Gibson-Graham, the joint pen name for two economic geographers, Katherine Gibson and Julie Graham, who articulate the need to dislodge the notion that market exchange within a capitalist system is the only form of economy that counts. 
With this spirit, "community economies" encompass a range of strategies which increase collective self-determination and build community wealth. From worker cooperatives to fair trade certification, community land trusts to "buy local" campaigns, grassroots financing to local food systems, these alternative approaches to community prosperity typically receive only brief mention in university curriculum as curious possibilities or experimental ideas. Meanwhile, a vibrant community of practitioners around the country and around the world advances and innovates. Amid increasing questions about racial and socioeconomic inequality, the challenge of climate change, and the wisdom of unregulated capitalism, community economies represents a fundamental shift in how we conceptualize, operate, and manage the economy and think about collective well-being.
"Community economies" are fundamentally relational. A community economies perspective prioritizes relationships and reciprocity as the true source of wealth and prosperity. Here are some of the different dimensions of a community economies framework:
Context - Community economies is a response to and exists within the context of neoliberal, post-industrial, and racial capitalism as well as the reality of climate change and loss of biodiversity and the stress these conditions place on all life;
Rationale – Advocates for community economies share a belief that economic structures and economic thinking is a primary driver of what happens within society;
Values – As a framework, community economies is based upon a distinct set of values, including interdependence, personal connection, embeddedness, and others (see our core values);
Activities – The most visible aspects of community economies are various projects and activities, such as cooperatives, community land trusts, farmers' markets, fair trade networks, and "buy local" campaigns, to name just a few;
Process – Community economies flourish through the implementation of particular processes, such as the reinvestment of surplus into the commons or the transfer of ownership to workers;
Logics – Community economies operate according to specific logics, such as networking, collaboration, and decoupling economic growth from well-being;
Geography – Community economies generate geographies across space and time reflected in phenomena such as "slow food," "buy local" campaigns, and fair trade networks;
Subjectivity – Community economies generate multiple subjectivities, such as democratic participant, pro-sumer, and worker-owner;
Language – There is a still emergent and shifting discourse within community economies such that terms like food security, food sovereignty, food democracy, and foodshed co-exist with a common lexicon; 
Purpose – Advocates for community economies frame the ultimate purpose of their work in different ways: deliberative democracy, sustainability, racial equity, and decolonization. These purposes are usually, but not always, compatible with one another and provide grist for debate and discussion;
Theories of change – With a community economies framework comes several pathways to change, such as working through anchor institutions, cultivation of pollinator businesses, reparations, and repatriation of land to Native Americans.
 
Gibson-Graham's work, however, is only one inspiration for our working group and one expression of alternative economic thinking. To read more about the roots and various branches within the community economies movement, read this primer, written for the Community Economies Collaborative at UC Davis.